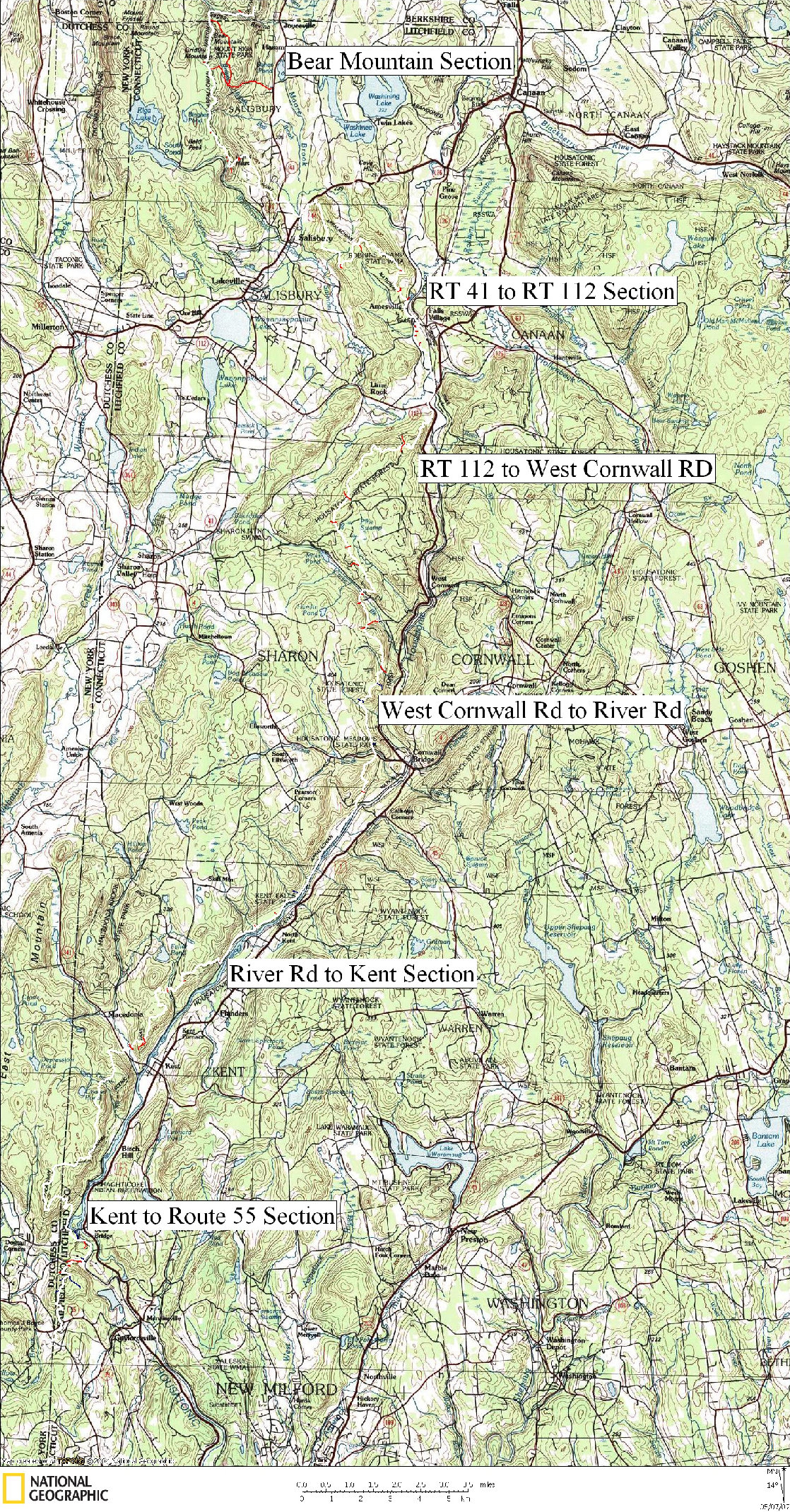 Trail mapped by CTXGuide copyright 2007
Map created with TOPO! copyright 2007 National Geographic





The Appalachian Trail
Connecticut
The Appalachian Trail runs for approximately 53 miles through Connecticut's mountainous northwestern corner. Even though this eastern route has been debated by some as deviating from the true Appalachians through New York and Central Pennsylvania, there will not be any doubts that this route was well chosen. There are plenty of impressive scenes from the scenic vistas of Bear Mountain to the white water rapids of the beautiful Housatonic River. This trail is a classic backpacker's trek.

Note: The Appalachian Trail is marked with a white blaze and is easily navigated. The red trails and trail stubs marked on the map represents unmarked or unknown trails that interesct or split off from the Appalachian Trail. Some of the blue routes are identified as official designated trails.

Even though The Connecticut Forest and Park Association has mapped this section in their Connecticut Walk Book West, the true keepers of the trail are the Connecticut Chapter of the Appalachian Mountain Club. The differences in excellent trail maintenance, established overnight camping areas, and prudent routing is a contrast to that of the Connecticut Forest and Park Association's management of the Blue-Blazed trail system.
Click the desired label on the map for zoomed view.

Connecticut Appalachian Trail hiking maps and guides for Litchfield County, Kent, Flanders, Macedonia, Housatonic River, Bull's Bridge, Cornwall Bridge, West Cornwall, Falls Village, Amesville, Salisbury, Bear Mountain, backpacking, tents, camping, gear, boots, backpacks.