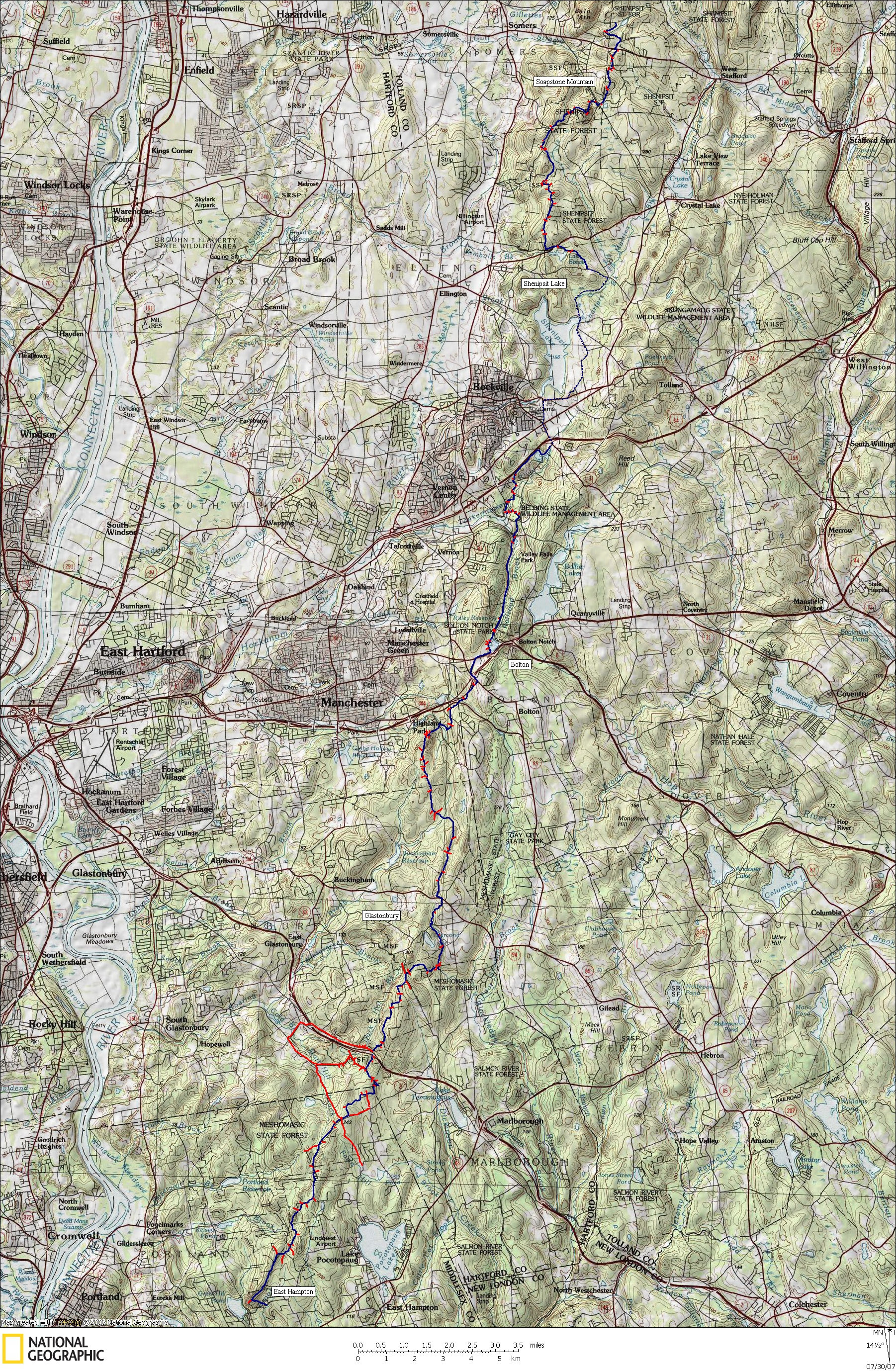 Shenipsit Trail Map
The Shenipsit Trail is about 40 miles from end to end. There is a 5.5 mile gap where there are no trail markers between East Reservoir and the trailhead at Grahaber Road.

The most scenic sections are the southern trailhead from Gadpouch Road to where the trail crosses Gadpouch Road again, from Route 2 north to about a half mile south of Diamond Lake Road, from Route 94 north through to the Case Mountain Parking area along Birch Mountain Road, from Route 6 north to the reservoirs along I-84, from Grahaber Road to Route 140, and around the Soapstone Mountain area.

This trail is managed by the Connecticut Forest and Park Association, but it would be a better resource to be managed by the Connecticut North East Mountain Biking Association. Even though the blue-blazed trails are for foot traffic only (although there are no signs posting this anywhere), this trail is a pure mountain bikers route from start to finish. The most popular riding area is around Case Mountain, but there are plenty of other riders along the remainder of the trail. Beware of the southern section of trail from the Gadpouch Road crossing to Route 2, it is heavily used by ATV's.
www.nationalgeographic.com
Map created with TOPO! copyright 2007 National Geographic
Trail data created by CTXGuide copyright 2007
Click on the desired map label for a zoomed view of the trail.
The Shenipsit Trail is for hiking and backpacking, but camping is difficult. Good hiking boots and camping gear may be needed as well as a great backpack. Enjoy the hiking trail guide.